Greenbrier Valley Real Estate Blog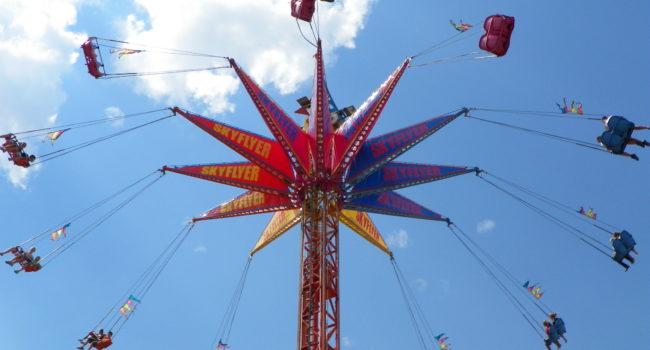 2019 state fair to feature mix of new items and familiar favorites
Photo coutesy of State Fair of West Virgina
The 95th Annual State Fair of West Virginia will take place near Lewisburg Aug. 8-17. This year's theme is "Summer's Greatest Adventure."
By Pete Davis in News | August 06, 2019 at 8:21PM
FAIRLEA, W.Va. — In addition to carnival rides, activities and an extensive concert lineup, the 95th Annual State Fair of West Virginia will have a few new entertainment twists when it opens Thursday.
State Fair CEO Kelly Collins told MetroNews guests will encounter one of those added features when they arrive at the main gate.
"We have a new photo opportunity for families to take, and it's a nice little sign that's right in our front entrance. You fill in the 'i' in the word 'fair,'" she said. "You can grow with it every year. We want people to take a picture so they can capture their memories here."
Inside the fairgrounds, there will be several free daily stage shows taking place throughout the 10-day festival, including nostalgia from Grandpa Cratchet, Scott's World of Magic, Disc-Connected K9s, Swifty Swine Racing Pigs and hypnotist Catherine Hickland.
Also new at the fair this year is a mini-corn maze inside the Farm to Food Pavilion, which Collins said will add to the overall theme of promoting agriculture, while making the educational aspect of the fair fun for children participating in family-oriented activities, such as the traditional Ag Scavenger Hunt.
The fair's Best New Fair Food event will return this year for the second-straight year with nine new food items. Additionally, the craft brew beer garden is returning.
Legendary country music trio Alabama will perform at the fair as part of the group's ongoing 50th-anniversary tour. Following some recent cancellations, Collins said the Aug. 16 performance by the band to wrap up the fair's concert series is set.
"(Lead singer) Randy Owen was, unfortunately, suffering from some migraines and vertigo but, from what we've been told, he is undergoing treatment at Vanderbilt (University) from one of the best doctors in the country and looks to be good for our show on the 16th," Collins said. "They love the atmosphere here, they love the people, they love the stage, and they love coming to the state fair. They were excited when he asked them to do it."
Also performing this year are Justin Moore, Ashley McBryde, Cody Jinks, TobyMac, Lorrie Morgan, Cole Swindell, Darci Lynne, Riley Green, and Jimmy Fortune.
Comedian Jeff Foxworthy will appear August 17, the final day of the fair.
Collins said she expects tickets for several of the upcoming concerts to be sold out by the time the fair opens and recommends checking availability and purchasing advance tickets at the fair's website.
Source : WV State Fair and Pete Davis