Greenbrier Valley Real Estate Blog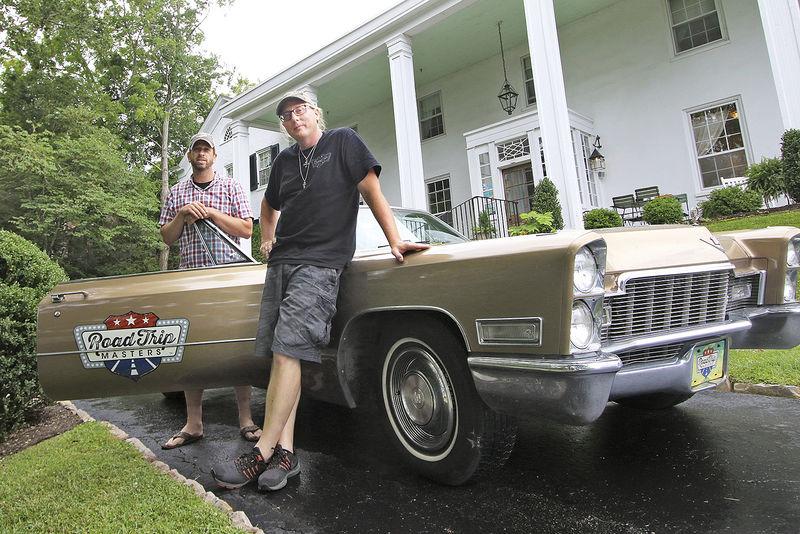 The Lewisburg-White Sulphur Springs area played host last week to Nick Kessler and Brian Fulmer, a pair of teachers who spend their summers tooling through small town America in a 1968 drop-top Cadillac. At each stop on their tour, the two buddies sample the local food, lodging and adventures, and craft the result into an episode of their "Road Trip Masters" television show on the Discovery Channel.
"We try to highlight something special about each town we visit," Fulmer told The Register-Herald shortly after filming in Lewisburg concluded Wednesday afternoon. "We want to give our viewers a broad sense of what's going on in an area."
Kessler added, "We're educators. We're here to instruct our viewers in much the same way we instruct our students, hoping they surpass us with their own experiences."
The duo gets a kick out of feedback from the show's fans — many of whom have taken to the road to see for themselves one or more of the towns the "Road Trip Masters" have visited.
Enjoying the small town experience comes naturally to Fulmer and Kessler, both of whom grew up in similar environs.
"It's who we are," Fulmer said. "We try to capture each town we visit exactly as it is, just as anyone coming into town would find it."
The show is unscripted, Kessler emphasized.
"We want to give you a taste of where to stay, what to eat and where to go when you visit that town," he said. "We incorporate humor, but nothing that would jeopardize the reputation of the location."
Fulmer agreed, saying, "We're not out for drama — staging fights for the camera or anything. And in September, we'll be back in the classroom. Traveling refreshes you; it gets you out of the daily grind."
While Kessler's family accompanies him on the show's road trips, often working on the production, Fulmer's wife — who, he says, is nonetheless "a big fan of the show" — prefers to remain at home, tending to their "high-energy" young sons amid a support system of family and friends.
"It's hard to live out of a suitcase," Fulmer acknowledged.
While in Lewisburg and White Sulphur, Kessler and Fulmer visited the Greenbrier River Trail, Free Spirit Adventures, the General Lewis Inn, The Greenbrier resort, Greenbrier Outfitters, the French Goat restaurant and Lost World Caverns.
Throughout their adventures connected to the now-three-year-old show, Kessler and Fulmer said they've had a string of positive encounters in every town they have visited.
"So far, we've met genuine, nice people," Kessler said. "Whatever you want to call it — West Virginia hospitality, Kentucky hospitality, Maryland hospitality — there are so many good people in the United States."
Fulmer spoke about what a "clean, nice town" Lewisburg is, and Kessler noted that while he was aware the town was sprucing up for its late week judging in conjunction with the America in Bloom program, he could tell no major overhaul had been necessary.
"First impressions are lasting impressions," Kessler said. "We know this town looks like it did when we arrived all the time. Everybody's prideful of this town. And there's tons to do here. You can't fit everything in."
Both men said they value the relationships and friendships they've formed in the course of filming "Road Trip Masters."
One person they are sure not to forget from their time in Lewisburg is Valerie Pritt. Communications manager for the Greenbrier County Convention and Visitors Bureau (CVB), Pritt accompanied the show's crew every step of the way, making sure they had what they needed to fulfill their mission.
Kessler credited Pritt and the CVB with "lining up the cool shots" that would show off the area to best advantage on the television program. He said once a target town has been tentatively selected for filming, the production company reaches out to local tourism officials to gauge interest in having the TV show shoot an episode there.
The Greenbrier County CVB was enthusiastically receptive to the pitch.
CVB executive director Kara Dense said, after being contacted by the show, she sorted through the options available for the shoot and sent information out to the production company. Once a deal was struck, Pritt attended to the details.
"Valerie was our key person," Dense said. "She reached out to all our partners to coordinate scheduling. That was a bit of a challenge; this is a busy time of year for all of them."
Dense said Fulmer and Kessler and their team "were great to work with."
"What's great with this show is that it's on the Discovery Channel, which a lot of families watch, and it's also streaming on Amazon Prime and will reach a lot of people there," she said, noting that on the streaming service, the program will reach the growing number of people who've "cut the cable" at home.
"We look forward to getting information out to those people and letting them see what a great area this is to visit," she said.
By steering the production company to unique activities, such as guided tours of The Greenbrier's now-decommissioned Cold War era bunker, Dense said the CVB hopes to maximize the episode's appeal to families and couples seeking new adventures.
"Many people, even local people, aren't aware that the bunker tours are open to nonguests," she said. "In fact, it's one of the most asked-about attractions in inquiries made to the CVB."
The new season of "Road Trip Masters" will premiere on the Discovery Channel around April 20, and Dense is thrilled with the timing.
"For the show to be broadcast in April, when people are planning vacations or weekend getaways, that is ideal for visitor impact here," she said. "We hope we'll be able to do a big media splash around the air date."
Source: The Register-Herald by Tina Alvey Photo by Jenny Harnish The Register-Herald