Greenbrier Valley Real Estate Blog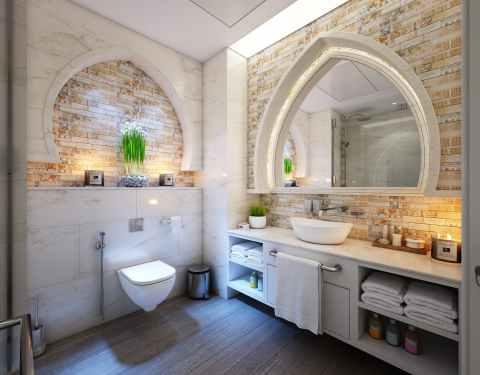 Spring Time in the Greenbrier Valley!
We're looking into the latest home trends!
We can't believe it's already May of 2018! Spring has definitely sprung in the Greenbrier Valley of West Virginia. As we all know spring time is a time when we all feel the rush to weed those wintered flower beds, spruce up the exterior of the home, and of course the dreaded "Spring CLEANING!" Spring time often makes us think of new beginnings as all the beautiful spring flowers line our walk ways and flower beds and as the flowering trees show their flashy flowers throughout our town of Lewisburg and many others in our area.
Spring inspires home buyers and sellers alike, everyone seems to be ready for a change, a new beginning. It's a wonderful time to buy and sell, and we feel especially that way here in Greenbrier County, WV. When selling your home you may begin to think of what potential buyers may like (and not like!) within your home. We decided to check in on just what the latest home trends are this year! What may buyers be looking for? What trends do we think will stick around and ones that we think need to go! Whether your home is due for a decor update or you simply prefer to keep up with the latest interior design styles, experts have revealed the decorating trends that will and have dominated 2018.
---
So, if you're planning to put your place on the market and want it to appear like the freshest spot on the block, you need to know what's hot and what's not!
Let's take a look at what design experts have come up with…
1. Mixed metallics
Silver and gold no longer need to be separated like sparring siblings. Not only can these metallics be mixed but also they can be joined by their pal, rose gold, which brings a softer, warmer hue to any room.
2. Colorful appliances
If you believe stainless steel has lost its luster (pun intended), you're not alone. The good news is 2018 is the perfect time to embrace a pop of color when it comes to your appliances. In addition to stoves in bright, bold shades, you'll also find washers and dryers that are so decorative it's almost a shame to relegate them to the laundry room.
While we think it's a great TREND, exactly how long are you going to love that blue stove? To each their own, but we feel like you just can't beat the classic and true stainless steel. What do you think? Leave us a comment! Are you team stainless or not?
3. Patterned flooring
Goodbye, simple ol' hardwood! Patterned flooring adds interest to a room and can pull it all together. Expect to see geometric shapes as well as exotic Moroccan-inspired designs that will make guests stop in their tracks and take notice.
We know you've seen many DIY shows or Home Improvement shows that showcase patterned flooring! We love this trend! If the right decision is made on the pattern and colors, what could go wrong?! Although we do think it's best to use in a smaller space such as a bathroom or laundry room.
4. Patterned fabrics
Say "See ya!" to solids when it comes to home furnishings as well. Don't be afraid to juxtapose patterns, both geometric and florals, alongside neutrals for a one-of-a-kind look that shows off your personality.
Just remember, if trying to sell your home not everyone loves bold floral curtains…neutral could work more in your favor.
5. Velvet furnishings
Is there anything as luxurious as velvet? 2018 is the year to cozy up to this ultra-soft upholstery. Don't be afraid to select an eye-catching color that makes the room as interesting as it is inviting.
Have you seen this trending in home design yet this year? Though possibly not for everyone this trend does definitely scream luxury, modern, contemporary home decor!
6. Color of the year: ultra violet
If you've always had a love for lavender, this is your year! The Pantone Color of the Year is ultra violet. The blue-based purple evokes both a modern and vintage feel at the same time. The best part is it's extremely versatile. From the powder room to the bedroom, this soft hue can be dressed up with modern art and accent fixtures, or simply provide a stunning backdrop in an understated space.
Once again, if you love it–go for it! Just keep in mind that not every buyer is looking for the hottest color of the year. We do love the paintings and rug pictured, what a great way to add some color to an otherwise neutral space.
7. Curvy furniture & natural accent pieces
Get ready to see curvier, rounder shapes in furnishings as comfort takes a front row seat in your living or family rooms. Adding to that more laid-back vibe, accent pieces add a more natural look, with woods featured prominently, particularly in the table arena. Because, let's be honest, bringing a bit of the outdoors in never goes out of style.
Enough said, we love it all! Here's hoping this is a "trend" that sticks around a while! So comfy and cozy, who doesn't want to feel that way in their home!
8. Spa-like bathrooms
Bathrooms get a fancy facelift in the new year. Transforming this space into a spa-like sanctuary may be simpler than you'd think. A new tub, luxurious black and white towels, floral arrangements, and candles all create an overall appeal that serves up an oasis in your very own home.
Of course everyone wants to feel like their bathroom is their own spa oasis! Whether you have a large bathroom or a smaller one, by keeping the colors light and soothing you too can create your own spa oasis in your own home. Also, a great selling point to buyers!
9. Wabi Sabi
Not to be confused with the Japanese horseradish, wabi sabi is the Japanese aesthetic that finds beauty in imperfection. That means handcrafted items, including pottery, are going to be all the rage. So put them on display and embrace the notion that not everything needs to be flawless to be beautiful.
You've heard perfectly imperfect? We agree. Items incorporated into design that are necessarily perfect allow buyers to feel at home and comfortable, which might just help you sell that home!
10. Jewel tones
Beige and gray are taking a year off as jewel tones arrive on the home decor scene with a welcome flourish. These shades will help warm up any day by making your rooms more vibrant.
They got it right when they said vibrant! Wow! Not so sure that this would fall in the great staging tips department. But as we said before, to each their own-if you love it, go for it! Nothing better than feeling at home right where you are. It would be easy to tone the colors down if you ever decided to sell your home.
Home Decor