Greenbrier Valley Real Estate Blog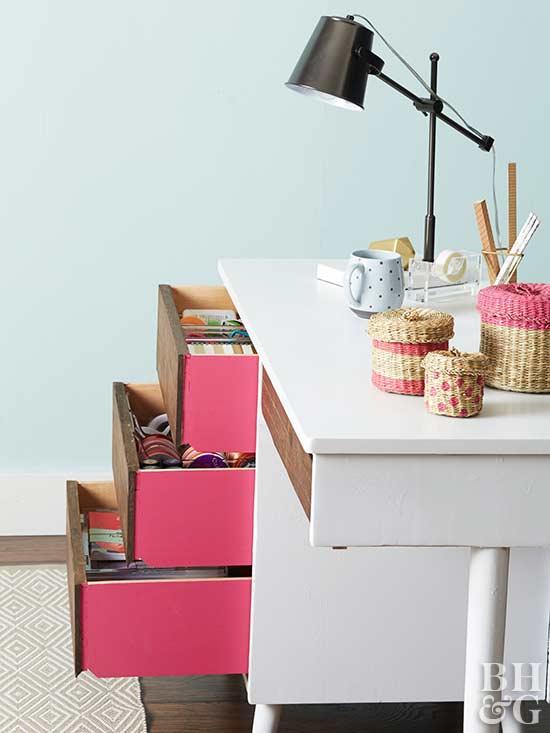 Genius Uses for Leftover Sample Paint Pots
Stop throwing away extra paint. Put it to work with one of these clever DIY projects—like using it to dress up wall art, accessories, and accents.
Faded Wash
Get this grayscale ombre message board with corkboard and paint. Cluster 12 corkboard panels above your work space, then lay out all the panels, sides touching, on a protected surface in the arrangement you plan to hang. Use a dry-brush technique to paint across the panels. Put a small amount of paint on a brush, and apply in long strokes from left to right to create a gradually diminishing effect. Continue dragging paint until you achieve the desired look.
Hidden Hues
Add pops of color to a desk with one pot of sample paint in a bright shade. Start by emptying and removing all desk drawers. Sand the drawer sides, and tape off any areas you don't want to paint (like the tops of the drawer sides or the drawer fronts). Prime, let dry, then apply two coats of paint. Apply a coat of clear wax or matte varnish for protection. Allow the paint to cure for a few days before reinstalling the drawers.
Stow Away
Use paint to add stripes and polka dots to small wicker baskets or other accessories. This trick works especially well when you have only a trace amount of paint left, ensuring that not a single drop goes to waste. Use the accents to match other paint colors in the room, like on the walls or furniture. Apply paint with a small artists brush, and let dry before filling with trinkets.
Front Loading
Dress up plain white shelves with a quick color makeover. Use a brush or disposable foam roller to prime the face frame of a bookcase and front edge of shelves; let dry. Apply two coats of a single color of sample paint, allowing each coat to dry. Top with a coat of clear wax or matte varnish for extra protection.
Stamp and Stencil
Add a painted pattern to an ordinary cotton rug. Print our Aztec motif, enlarge to fit your rug, trace onto cardboard, and cut out the pattern with a utility knife to create a stencil. We placed our stencil in the center and each corner of the rug. Use a 2-inch stencil brush to lightly fill in the shape, dipping the brush in paint, wiping off excess paint on scrap cardboard, and dabbing it on the rug. To create the lines between the stenciled shapes, use painters tape to create 2-inch-wide strips with angled ends. After painting, remove tape and let dry for several days before using.
Sign Here
Tie a room together with leftover sample paint applied to blah curtain panels. Begin by ironing curtains and laying them on top of a work surface covered in kraft paper. Use a 1-inch foam brush to paint a row of irregular Xs, using the top brush edge as your stamp. We placed the first row of Xs at the top of the curtain panel, just below the rod pocket. We used a ruler to evenly space the rows 1 inch apart. Lift the curtain panel after completing a few rows so that the fabric and paper don't stick together while the paint dries. This paint treatment will hold up to a gentle wash with a mild detergent. Hang the panel to air-dry.
Art Display
A homemade abstract masterpiece is easy with any level of artistic talent and a couple pots of sample paint. Sand one side of a birch plywood panel and wipe away dust. Lay the plywood on a plastic drop cloth. Unscrew the nozzle from a spray bottle and put the tube in a dark paint sample. Hold the sprayer at least 2 inches above the plywood to get a good range of spray. After you spray the desired amount of full-strength paint, insert the nozzle in a jar of water and apply thinned paint to create a muted, misty look. Alternate between undiluted paint and water until you have the desired amount of your first color, then repeat the process with a second color. Allow the panel to dry flat to avoid runs or drips.
To hang the art, use a French cleat. Cut two 1×4s to a few inches shorter than your piece's width. Use a circular saw to cut 45-degree angles along one long side of each board. Screw one strip to the back of the artwork using three or four 1-1/2-inch screws; attach the other board to the wall. Position the strips so the angles lock together. Then attach two small boards to the back bottom of the painting to hold it out from the wall the same distance as the cleat.
Make It Yours
Add subtle style to plain glassware, like these simple vases. Using the eraser on a new pencil, stamp polka-dots on the bottom and up the sides of the vase. Allow to dry and let cure for a few days before using. Because sample paint is not permanent on glass, you can scratch or wash off as your style needs change.
PROJECTS by LESLIE POYZER, WORDS by EMILY VANSCHMUS
Better Homes and Garden